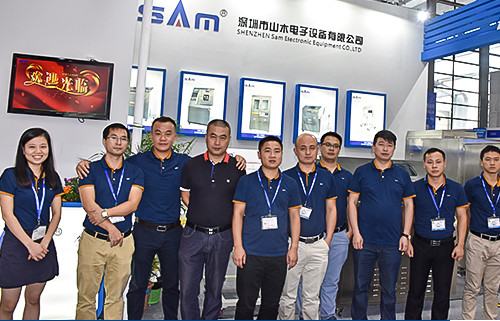 SAM History
SHENZHEN SAM ELECTRONIC EQUIPMENT CO.,LTD was founded in 2005, A professional company specializing in R&D, manufacturing Precision Cleaning Equipment,Waste Water Treatment Equipment ,PCB Depaneling Equipment,SMT Semiconductor Peripheral Equipment.
We will continuously develop new and refined products and technology to achieve world-class manufacturing level for meet the demands of high-end customers.
With more than ten years development ,SAM's technical strength and excellent service to win the trust and support of customers. Our products was won SMT China Innovatiom achievement at three consecutive years. . .
2005
The company was founded in 2005

supplier
Strong Cooperation with world top 500 Enterprises.

Team
The team won more than 20 patent certificates

Service
Serves attentively ,Customer Priority Provide full solutions as customer request.
2005

Shenzhen SAM Electronic Equipment Co.,Ltd founded.
2006

Kunshan office founded.
2008

Launched parent products lowest stress PCB Depaneling machine.
2010

SAM Electronic Equipment Co.,Ltd Hongkong branch Founded.
2012

Cleaning Machine Department established , R&D Stencil/silk screen cleaning machine , PCB/PCBA Clean Machine,Jig cleaning machine.
2014

Expand production , Move to 2200 square meters factory.
2015

R&D new Ultrasonic spraying cleanequipment.
2016

Successful launch Squeegee and Nozzle cleaning equipment.
2017

Establish waste-water treatment department.
2018

Expand production, Factory production area covers more than 4500 square meters.
We will get you a fast free quote and schedule your job on the day and time that works best for you.